VENUE and TRAVEL
The conference venue:
Radisson Blu Royal Hotel, Bergen

The hotel's location in Bergen city center is next to the UNESCO World Heritage site, the Bryggen
Guests can easily reach a variety of cultural attractions as well as public transport options from this hotel's location. In the Bergen city center, explore sites like Bryggen, the historic wharf, which is populated by vivid wooden houses and originally served as the town's central hub. Today, the neighbourhood continues to thrive, beckoning visitors to meander amid old alleyways and peruse the bustling fish markets. As an added bonus, the hotel is only 20 minutes from the airport and 2 minutes from the lively pier area.
Sleek Bergen accommodation serves as cozy retreat
Modern, streamlined design characterizes the 342 rooms and suites of the Radisson Blu. Balancing comfort with style, the Bergen accommodation features appealing amenities such as free high-speed, wireless internet, satellite television and the daily super breakfast buffet. Complimentary access to the fitness center is also included with your stay. To best meet our guests' individual needs, we offer a selection of non-allergenic rooms and accessible rooms, available upon request.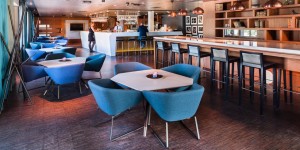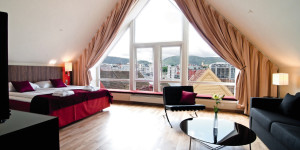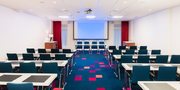 ---
BERGEN CITY
«..Beautiful.., ..rich in traditions and history.., ..charming and lively..»
These are superlatives visitors to this city typically choose when asked to describe Bergen. With currently 225 000 inhabitants and a history dating back some 925 years, this pulsating city offers a unique atmosphere. The city is a former Hanseatic port and the birthplace of the great 18th century writer of comedies, Ludvig Holberg, and the famous 19th century composer Edvard Grieg.
Bergen offers Europe's largest areas of old wooden houses, still in use. The down town Fish market is truly world famous and a heaven for salmon lovers!
Bergen is known as «the gateway to the fjords» and is the natural starting point for breathtaking fjord explorations. Bergen is thus the ideal travel destination, offering an attractive combination of mountains, sea and historical city
---
Travelling to Bergen
Bergen Airport Flesland (BGO) is well connected with other Scandinavian Cities, European hubs and the capital Oslo. For more information on the airport follow this link to their website.
Travel to Bergen by train! From Oslo city center you can take a seven hour train ride traveling through fantastic Norwegian landscapes. You can book your train tickets at this website
Getting to the venue from the airport
The airport offers a wide range of transportation options. Taxi, bus or light rail is available and will take you to Bergen city center. For more information on traveling to the conference venue from the airport you can follow this link.